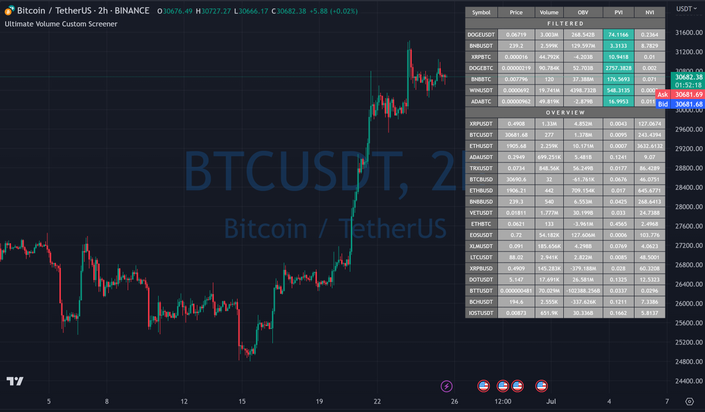 Ultimate Volume Custom Screener
Create your own TradingView volume custom screener without coding
Get Access
Screener on TradingView: https://www.tradingview.com/script/I895dC41-Ultima...
This indicator will allow you to make your custom volume TradingView screener without coding. Add it to the chart, and select up to 40 symbols and up to five indicators. The screener will do the rest for you. The indicator will form a lovely table with all values and highlighted signals. It allows also to filter symbols based on the values of indicators and sends results as an alert.
The screener is highly customizable, and you can choose its position on the chart, sorting, order of the columns, colors for the tables, and all signals separately. You can easily change parameters for all supported indicators.
Supported indicators
Currently, there are 15 different custom indicators available. Current list of indicators:
Accumulation/Distribution (Acm/Dst)
Chaikin Money Flow (CMF)
Ease of Movement (EOM)
Klinger Oscillator (KO)
Money Flow Index (MFI)
Negative Volume Index (NVI)
On Balance Volume (OBV)
Positive Volume Index (PVI)
Price
Price-Volume Trend (PVT)
Volume
Volume MA (VMA)
Volume Percentile (V-Prct)
Volume RSI (V-RSI)
Volume Weighted Average Price (VWAP)
We're already working on adding a few more supported indicators. If you have any ideas about the indicators you want to see in our screener, contact us, and we'll consider them.
Filters
You can combine up to 5 filters on all selected indicators:
This will split the screen table into two parts. The top one will contain symbols that satisfy all conditions:
Alerts
You can also create an alert and receive a filtered symbol at the end of every bar.
Your Instructor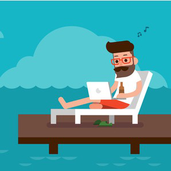 Learn Pine Script Programming from the best

I'm a top-ranked and trusted Pine Script/TradingView Developer with 6+ years of experience. Over the years, I built hundreds of custom strategies and indicators, contributed to the algo-trading community, published dozens of open-source indicators, and established an industry-authority youtube channel with dozens of educational videos about TradingView and other quantitative topics.
To share my extensive background in Pine Script, I created a few well-structured video courses so that you can learn TradingView and Pine Script from scratch.
Through these online lessons, you will acquire hands-on skills for developing advanced strategies and indicators that work on different timeframes and markets (including crypto, equities, options, futures, and forex). My tutorials are structured this way so that even people without prior programming experience should find them easy to understand.
I hope you enjoy and find my courses helpful!
You can always contact me if you have any questions.
Also, you can join my growing community of 40k+ subscribers on YouTube or TradingView.
Course Curriculum
Get Access
Available in days
days after you enroll
Frequently Asked Questions
Is it a course?
No, it's an indicator. I just use the same platform as I'm using for my courses.
How will I get access to the indicator?
After the purchase, you have to send me your email and TradingView username. You'll have access to the indicator at most after 24 hours after your purchase.