Script on TradingView: https://www.tradingview.com/script/IBsfiH89-Rollin...
Standard Pivot Points are calculated from the previous day's (week/month/year) close/low/high values. But what is the day close for cryptocurrencies trading 24/7 on exchange? Does it make sense to use a specific time price as a close if it continues trading after that?
So I solved that issue with Rolling Pivot Points, where I calculate pivot points not at the end of the period but for every bar on a rolling basis. Every time I recalculate pivot points, I look at a window of period length in bars and base my calculations on these bars. This way, you get smooth pivot points changing with every bar, and it should better represent support and resistance for the price.
In this indicator, I implement three types of pivot points
Camarilla
Fibonacci
Traditional
In terms of period, you can select any one you want. If you'll keep Auto Indicator well, compute period automatically. For two days, for example, use 'Day' in Period and 2 in Period Mult parameters.
You can also change the type of MA used to smooth Pivot Points.
Parameters of the script:
Disclaimer
Please remember that past performance may not be indicative of future results.
Due to various factors, including changing market conditions, the strategy may perform less well than in historical backtesting.
This post and the script don't provide any financial advice.
Your Instructor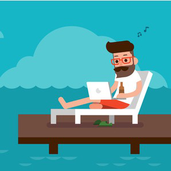 Learn Pine Script Programming from the best

I'm a top-ranked and trusted Pine Script/TradingView Developer with 6+ years of experience. Over the years, I built hundreds of custom strategies and indicators, contributed to the algo-trading community, published dozens of open-source indicators, and established an industry-authority youtube channel with dozens of educational videos about TradingView and other quantitative topics.
To share my extensive background in Pine Script, I created a few well-structured video courses so that you can learn TradingView and Pine Script from scratch.
Through these online lessons, you will acquire hands-on skills for developing advanced strategies and indicators that work on different timeframes and markets (including crypto, equities, options, futures, and forex). My tutorials are structured this way so that even people without prior programming experience should find them easy to understand.
I hope you enjoy and find my courses helpful!
You can always contact me if you have any questions.
Also, you can join my growing community of 40k+ subscribers on YouTube or TradingView.
Course Curriculum
Get Access
Available in days
days after you enroll
Frequently Asked Questions
Is it a course?
No, it's an indicator. I just use the same platform as I'm using for my courses.
How will I get access to the indicator?
After the purchase, you have to send me your email and TradingView username. You'll have access to the indicator at most after 24 hours after your purchase.